I had to answer — in my

Q&A 5-year journal

— and I wasn't sure whether continuing to memory-post is the way to go. So here's the scribble:
since the daily question
prompted my tangential thoughts, I thought about adding "in answer to a question" category or tag. I haven't decided yet but should do so soon-ish. They could be like VOICE MEMOS except, again, current. For the SANCTUARY category and page, I plan to do the same, for READING too — I read + write (almost) every day. Perhaps for ABOUT ME I may have to resort to the past more often. Will endeavor not to dig too much. 
if you could travel anywhere tomorrow, where would you go?
2020: Puerto Rico
2021: Puerto Rico or | and Bermuda
2022: Bermuda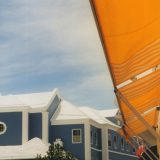 aiming to be current